The 2021 Subaru Love Promise Customer and Community Commitment Award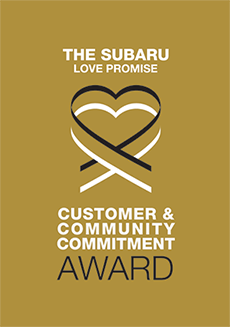 We've been nationally recognized for our dedication to our customers, our community, and the Subaru Love Promise.
We're honored to receive the 2021 Subaru Love Promise Customer and Community Commitment Award. This award nationally recognizes elite Subaru retailers who provide an exceptional customer experience at every interaction with Subaru. These retailers have also demonstrated an outstanding commitment to supporting passions and causes in their local communities in important areas such as the environment, community, health, education, and pets.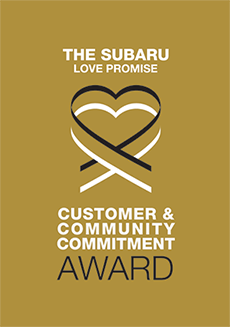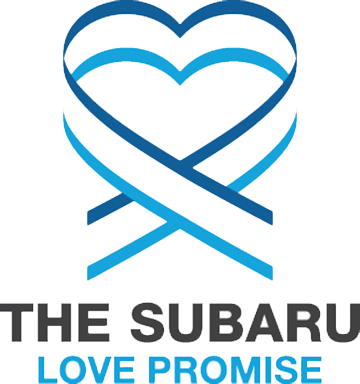 What is the Subaru Love Promise?
Subaru and our retailers believe in making the world a better place and the Subaru Love Promise is our vision of respecting all people. This is our commitment to show love and respect to our customers and to work to make a positive impact in the world.
How is Matthews Subaru dedicated locally to the Love Promise?
Our Love Promise can be seen in various partnerships with local charities and non-profits. We're grateful for the opportunity, not only to be a part of our community, but to serve it as well.
Vestal Youth Sports, Vestal Hills PTA
Meals on Wheels of Western Broome, VOA of Upstate New York, Toys for Tots
Mental Health Association, American Cancer Society, YWCA
Love Promise Stories from Matthews Subaru
Subaru and Matthews Subaru believe in making a positive impact on the communities in which we live and work. We uphold that belief through our Love Promise Community Commitment. Every month, we select inspiring stories from customers and partners from around our area who strive to support our collective commitment and feature them here
Bow WOW! - Matthews Auto Group M
Matthews Subaru GM Mike Gottlieb presented a check for $13,642 to the BC Humane Society in April, as a result of the Subaru 'Share the Love' initiative. Subaru of America donates $250 for each new Subaru sold from November to January to the customer's choice of 4 national charities. Dealers can apply for a 5th local charity and we chose the BC Humane Society for a seventh year, who rescues hundreds of dogs and cats annually. Matthews Subaru kicked in an additional $50 per vehicle. This year's donation, added to previous years, totals approximately $123,961 year to date! Media, teammates and two Chihuahuas looking for a new home joined the celebration.
---
Charles F. Johnson School Receives Donation - Kathy B
Matthews Subaru Loves Learning and supported a local elementary school with a much needed donation. $3000 was donated to the Charles F. Johnson school in Endicott, identified as the most high-need school in our area. Teachers from Kindergarten through 5th grade each ordered $500 worth of badly needed supplies through the Subaru Loves Learning initiative. General Manager Mike Gottlieb and Subaru Specialist Stacy Arroyo toured the school to get a first hand look at how the money was invested to give our kids a better future. We had a great day!
---
Matthews Subaru Donates $100/Adoption in October. - Lauren H
Matthews Subaru of Vestal, NY donated $100 to The Broome County Humane Society per every animal adopted in the month of October, both cat and dog, u to $3,100. In total, The Humane Society adopted out 145 animals, receiving the maximum donation amount. This initiative has furthered the partnership between BCHS and Matthews Subaru, furthering their commitment to help advocate for animal welfare, end animal abuse in the Broome County area and provide funds to help rehome and care for unwanted, stray or abused animals. We are so grateful to Matthews Subaru for their continued support, specifically with Share the Love and National Make a Dog's Day.
---
Matthews Subaru Kid's Parade - Kathy B
Matthews Subaru supported our team and our communities in April by hosting costume character parades to quarantined employees and their families with a visit from SpongeBob, Elmo and Big Bird. We visited 17 employee homes and brought smiles to 37 Matthews Kids and their neighbors. Over the course of two days we travelled to 3 counties, honking horns and driving through our employee's neighborhoods surprising many when they looked out their windows to see three colorful characters dancing, waving, blowing kisses and leaving a bag of goodies at the end of the driveway for the kids. Two employees who won an in-house contest, donated their winnings to buy gifts for the kids to keep them busy at home- like balls, bubbles, slime, kites, arts & crafts kits and more. Each kid received a bag of goodies with their name on it. We had an AMAZING TIME and provided much needed relief to our nerve-frazzled, at-home employees and their families as Elmo, SpongeBob and Big Bird delivered good cheer. We also heard from neighbors who reached out to us to say thank you for the unexpected and wonderful surprise when they looked out their window to see the characters drive by. What started out as being an employee event ended up being a community event that brought a lot of smiles that were badly needed at the time. The looks on the kids and parent's faces were PRICELESS and it was also a great opportunity to show our team how much we care about them and how appreciated they are!
---
Matthews Subaru Delivers Meals on Wheels - Kathy B
Matthews Subaru teammates volunteered to deliver hot meals to local residents in brand new Subarus, on behalf of Meals on Wheels of Western Broome, in January. As one of the national partners for Share the Love, we've developed a close relationship over the years with MOW, a non-profit organization that provides and delivers nutritious meals to home-bound seniors and handicapped in our community so they can maintain their independence and quality of life. Eleven Matthews Subaru employees divided up routes and visited dozens of residents. Many of the recipients were grateful to have visitors in addition to getting a hot meal delivered. One of our teammates was struck by the fact that at one home, a little girl answered the door who was being cared for by her grandma, so the meal they delivered benefited them both. The team enjoyed the day and are looking forward to doing more volunteer days to distribute meals. Additionally, in the midst of the pandemic, Meals on Wheels of Western Broome's Executive Director, Jackie Pangilinan stopped by the dealership to express her gratitude for the $5567 donation they received as part of the Share the Love initiative this year. Since it's inception, Meals on Wheels of Western Broome has received over $50,000 as a result of Share the Love! Each donation helps these programs enable seniors to age with independence and dignity in their own homes, where they want to be. Matthews Subaru is honored to be a partner to this great organization!
---
Matthews Donates Blankets to Cancer Patients - Kathy B
Matthews Subaru partnered with the Leukemia Lymphoma Society and Lourdes Hospital this summer to donate 80 warm soft blankets to local cancer patients. Customers were encouraged to stop in to the dealership and fill out a card to send a message of hope and support which was delivered with the blankets in early July. Subaru Sales team members Mike Gottlieb, Dillon Affatato, Cole Sevey, Marvin Potter, Lee Brown and Rob Finta pose with the display in the showroom and Stacy and Rob joined the team at Lourdes to present the cozy blankets along with dozens of "Messages of Hope" which were written by Matthews customers and employees to give cancer patients receiving the blankets an extra dose of positive energy! Stacie Hansen of Lourdes gratefully accepted the blankets along with Oncology Department members. THANKS to our CUSTOMERS for making this all possible! GREAT JOB TEAM!
---
Matthews Subaru Pet of the Week - Kathy B
For over 8 years, Matthews Subaru has partnered with the local BCHumane Society to feature an adoptable "Pet of the Week". Matthew sposts the picture and colorful description of an adorable dog or cat on their Facebook page each week, which has close to 14,000 Friends. Friends are asked to consider adoption or if they can't adopt, they can help by sharing the post on their own Facebook page. Each Pet of the Week post is boosted for$25 for seven days, targeting additional people within a 30- mile radius and when the "Facebook Effect" works at its best, up to 80,000 thousand people can be reached each week to promote the pet looking for its forever home. In several cases our own teammates fell in love with the featured pet and to this date, Matthews employees have adopted at least 6 pets through the BC Humane Society and Matthews Subaru has been directly responsible to helping countless pets – perhaps hundreds - find their forever families! Beyond that Matthews Subaru hosts Pet Photos with Santa and does a Supply Drive each year during the holiday season. Our customers are generous and grateful and they know Matthews Subaru does more than just talk - we dive right in to help local animals in need and they are always there to help and contribute! It's been a rewarding relationship between Matthews Subaru and the BC Humane Society for many years and we look forward to many more to come. As long as there are animals looking for a home, Matthews Subaru will be there to help them!
---
Matthews Subaru Shared the Love with Santa - Kathy B
Matthews Subaru in Vestal NY hosted "Pet and Kid photos with Santa" on December 4th for a 6th consecutive year as part of the Subaru Share the Love initiative. Matthews local charity of choice and longtime STL partner, the BC Humane Society, was also on hand with dogs available for adoption and an opportunity for guests to fill out an adoption application. Almost one hundred kids, dogs, and cats in all shapes and sizes converged in the Subaru showroom and waited for their turn with Santa amidst barking dogs, television camera crews and the occasional terrified, screaming child. It was organized chaos. Guests were also treated to complimentary human and dog cookies, candy canes and beverages as well as a free color photo in a souvenir sleeve. If guests requested more copies, Matthews asked for a $5 donation per picture with 100% of the proceeds benefiting the BC Humane Society. Earlier in the year, Matthews presented a check on behalf of Subaru of America to the organization in the amount of $18,300 bringing the total contributions over the years to over $75,000, helping them to open a new badly needed state of the art facility in 2017 which provides even more assistance to more animals, covering adoption costs and veterinary care. Matthews also collects pet supplies annually and has donated many tons of food, toys, bedding, and supplies thanks to our generous customers! Throughout the year Matthews Subaru also posts a featured a "Subaru Pet of the Week" on their website and the Facebook page then boosts the post to share with thousands of people each week. Dozens of animals to date have found their forever homes as a result of the program. In November, Matthews Subaru and the ASPCA sponsored a Fall Adoption Extravaganza at The Broome County Humane Society as part of the 'Subaru Loves Pets' initiative whereby all adoption fees were waived to approved adopters and were subsidized by a grant from Subaru and the ASPCA. Adopters were encouraged to submit applications prior to the event to become pre-approved so that proper reference checks could be made to ensure animals were placed in a safe home. 23 cats and 16 dogs were adopted by their new families that day, including some seniors who had been at the shelter for months and many cat adopters, took home 2 to keep buddies together! The event was the culmination of a month-long food and supply drive at Matthews Subaru. Customers were generous in making food/supply donations and in turn, received a Subaru pet bandana and a stuffed Forester or Ascent plush toy as our thank you for supporting a great cause! Additionally, Adoptive parents received a nice ceramic food bowl and plush toy from Subaru as a take-home gift for their new fur-kid on the day of the event. Matthews Subaru also had a vehicle on display with pet-friendly accessories like dog ramps and seat dividers to keep pets safely in the back seat during trips. It was a wonderful day and everyone was so excited to adopt their new family members and appreciated taking home a nice gift courtesy of Subaru. The BC Humane Society is a non-profit organization that relies entirely on community support and donations and they are extremely grateful for this partnership. Matthews Subaru General Manager Marvin Potter says, "We appreciate the great work the BC Humane Society does. All of us at Matthews are big dog lovers, so it's great to be partnering with an organization that loves animals as much as we do. Plus with Subaru vehicles being 'Dog Tested-Dog Approved', it's a natural partnership and our customers love that they can be a part of a solution to find homes for these animals."
---
Best Buying Experience - Douglas L
We got to the dealership slightly after lunch, in the rain. Everyone seemed to be busy so we checked out the showroom models. Cheerfully a voice from behind me asked if we could use help with anything. Turns out the voice belonged to the guy who manages the dealership's online presence. He spent the next 3 hours with us, went out in the rain and got 3 different Forester's for us to look at and test drive, introduced us to others at the shop, and in the end placed an '18 Forester Touring edition on hold for us. When we picked the car up two days later we got our first technology tutorial from the Sales Manager who set up some important items for us and spent about 20 minutes giving an overview of the tech we would most likely want to get used to first. After 2000 miles I stopped back in and had a second lesson; they invited us to do this repeatedly until we feel totally at ease with all of the tech - having traded in an auto that didn't even have a back up camera this is a superb service!! From beginning to end this was a wonderful buying experience! We feel like we've gained a "Subaru Family" that will be there for us going into the future!!
---
Subaru and NWF Loves the Earth - Stephanie M
Thank you Matthews Subaru for sharing the Love with Vestal Hills Elementary School, donating garden supplies, bird houses, bird feeders, gardening tools and live plants to create our own special garden
---